Entomology Research Program
Find this page at:
go.ncsu.edu/readext?444043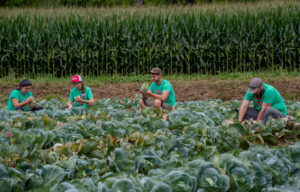 The Walgenbach Lab focuses on solving pest management problems for the tree fruit and vegetable industries in North Carolina's southern Appalachian and piedmont regions. Its overall goals are to develop and implement comprehensive pest management programs that are economically viable and minimize risk to the environment, farmworkers, and non-target organisms. Recent research has addressed a variety of issues, ranging from the broad management of pest complexes on a regional level to studying toxicity and behavioral responses of isolated laboratory strains of insects and mites. Most projects have short- to near-term implications. The extension program takes pride in implementing new research into ongoing pest management programs by working closely with the grower community, county and regional extension personnel, and the crop protection industry. Some of our recent projects include:
Brown marmorated stink bug in NC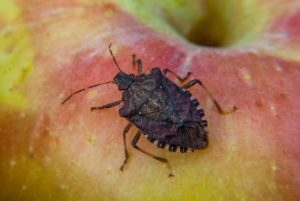 The brown marmorated stink bug (BMSB, Halyomorpha halys) is an invasive crop and nuisance pest that has become increasingly significant in NC agriculture. First detected in NC in 2009, it has spread rapidly throughout the mountain and piedmont regions of the state, appearing first in structures and urban landscapes and now feeding on tomatoes, peppers, corn, apples, peaches, soybeans, and a wide variety of other crops. Our lab is part of a team of more than 50 scientists in the US working to understand its biology in North America and to devise management strategies on a diversity of crops. Projects include BMSB population monitoring, pesticide screening, and biological control. Visit our BMSB homepage for more details.
Acaricide resistance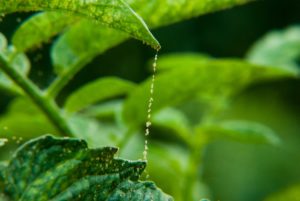 The twospotted spider mite is a serious pest of tomato and cucurbit crops in central and western North Carolina. We have conducted studies to establish economic threshold levels and vegetable sampling programs, which have helped reduce unnecessary acaricide applications. Nonetheless, low threshold levels often require multiple acaricide applications per season, and resistance to several commonly used acaricides is common. We are characterizing resistance of TSSM populations on a regional scale and working to better understand gene flow among populations at the local level — both of which will help us implement more effective acaricide resistance management practices. We are also researching the field use of Phytoseiulus persimilis for biological control.
Chemigation of vegetable crops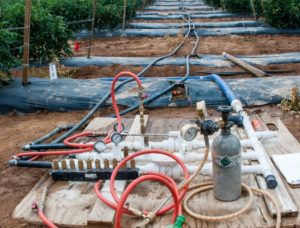 Chemigation is the use of irrigation systems to deliver pesticides to crops. The use of subsurface drip irrigation for delivery of systemic insecticides to the roots of crops offers several advantages over conventional high-pressure foliar sprays, including the elimination of spray drift and environmental contamination, reduced potential for farmworker exposure to pesticides, longer residual activity of insecticides, reduced overall insecticide inputs, and greater flexibility of application timing. The registration of several new systemic insecticides with activity against a diversity of pest complexes offers greater opportunities for drip chemigation in NC vegetables. Studies are being conducted in cooperation with growers in different regions of the state to more clearly identify the benefits and shortcomings of chemigation as an insecticide delivery mechanism.
Mating disruption of oriental fruit moth and codling moth in apple orchards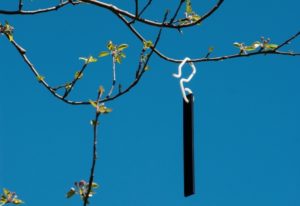 The Walgenbach lab has been conducting field studies on pheromone-mediated mating disruption of tortricid pests of apples in NC for over 20 years. The adoption of mating disruption for both codling moth (Cydia pomonella) and oriental fruit moth (Grapholita molesta) by the grower community has been an important part of managing resistant populations. Among apple growers using mating disruption on an annual basis, codling moth and OFM populations are consistently lower, and biological control of European red mite and apple aphids is enhanced compared to non-disruption growers. New pheromone-dispensing formulations and monitoring techniques are evaluated as they become available.
---
---
Additional Resources
---
Entomology Dept.
Mountain Horticultural Crops Research & Extension Center
455 Research Drive
Mills River, NC 28759
Phone: 828.684.3562 ~ Fax: 828.684.8715
Email: jim_walgenbach@ncsu.edu